Error 303: Feelings no found
I met a stranger today.
14 August 2010 || 17:47
无能的词穷,飘失无影无踪的灵感,让我无头绪地,不知该华文如何写起。八宝盒失灵了,我傻瓜似地花了半天把脑袋儿给掏空。剩下的是什么,噢!我忘了。
尝试着扭开那堆着灰尘的八十年代的旧式黑麻麻的老收音机。它,不作回应。hmm,也许投胎去了吧,为它许下了迟来的真诚祷告。屋外,闷热的风在耍花枪,时而嘶喊着,时而默默着,老实说,我讨厌它。噓!别告诉它!
收音机没了。思绪停留在半空中,突然想起还有现代的 Ipod。就这样,心爱的包包被我掏出了肠子胆心脏,却不见Ipod的踪影。噢,又那么地突然想起前两个月,我糊涂地把它给砸坏了,现在应该在跟孟婆要孟婆汤吧!
今天的我怎么啦!好像被点了穴似的。患了该死的遗忘症。懵懵懂懂地。
没法拉,that's why 现在我泡在部落格里。
ps,再次提醒,千万别告诉那风子我讨厌它。我可不想惹上疯子的麻烦。
再ps,对了,忘了告诉你,The Last Airbender 还真的霹雳地不错看!厚!我怎么打了这么多的"忘"字啊!还真是忘了!
Labels: feeling
Food Stories: Restaurant Da Shu Tou
05 August 2010 || 21:45
Yeap, normal dishes never satisfy my tummy. I love bizzare food!
Am I freaky?! HAHA
Besides mutton fish beef chicken, I always admire to try some game, but it's illegally right?! Hmph, sorry I can't share with you all at here. Latterly, there has some
or I can say is MANY
restaurants serving game if you tell the chef in the toilet. LOL, just kidding.
Last time, the china-man invited me to their house tried some
SPECIAL
dishes. Woooow, thumbs up! Unluckily too much enjoyed in the food and forgot to take photos. Quite miss-nya. But now has a good news too, there has a restaurant serving
F.R.O.G
in Klang!! Frog is popular and a normal dish for our this kind of gourmand. I'm dead excited because the place just near my living area, I can eat it everyday!!!!!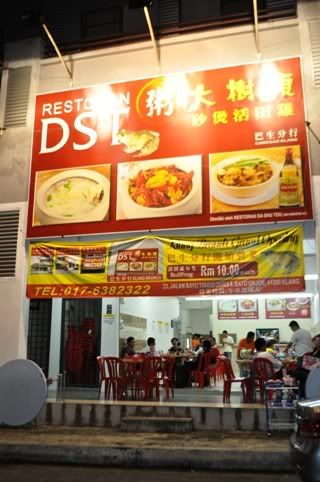 Browsing the menu, I just realized there has
some branches in Johor or Pahang
and the
third branch in Klang
! The choices is limited. As I know,
each frog costs you RM10
.
First time passed by the shop when it was still a newbie and that time still unknown in Klang. Now, everytime I pass by the shop, sure will be packed with lots of customer. Important thing is the seat is limited!! After waiting about 10 minutes, food were served.
Vege (medium, RM8) and Ikan Kampung (small, RM8).
The vege was quite fresh and tasty. Ikan Kampung, we could say thumbs up ! Even though it was just a normal dish, but it was cooked in good timing, abit crunchy abit soft.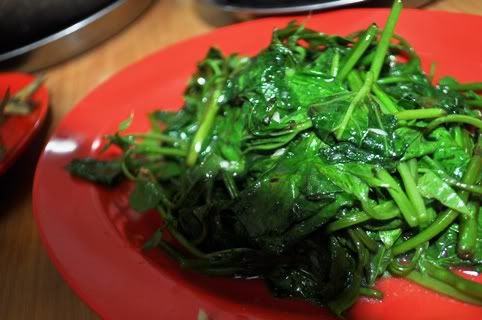 Congee(big, RM4), Ginger & Spring Onion Frog and Kong Bou Frog
.
Em, please don't laugh if you find my vocab has error.
I thought they cooked the frog with congee but came out like this. Maybe my friend changed the order. No disappointed but couldn't shout also for the congee and my sister liked it. I prefered Kong Bou more than Ginger & Spring Onion. My opinion is don't cook with lots of sauce but in dry, I think you will taste the sweet of frog meat more.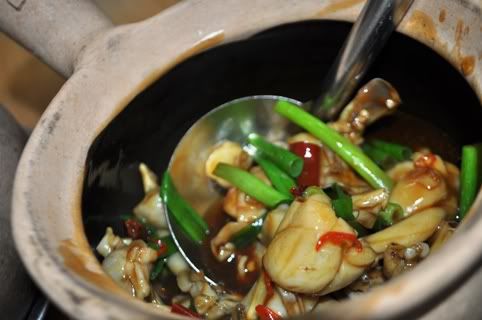 Wookay, it's just a short update and it was my dinner
just now
! I'm not so fully suggest you come here, but if you really want to have a try, I think it's quite okay.
Restaurant Da Su Tou (Klang)
Monday off.
Tue-Fri: 12-3pm and 6-12am
Sat-Sun: 12-12am
23, Jalan Bayu Tinggi 2B/KS 6,
Batu Unjur, 41200 Klang.
Restaurant Da Su Tou(Johor)
1. Jalan Mersing, Tmn Kurnia, Kluang
2. Jalan Pendekar 2, Tmn Skudai Baru, Skudai
Reataurant Da Su Tou(Pahang)
Jalan Jati 1, Gohtong Jaya, Bentong.
Labels: Batu Tinggi, Klang