Error 303: Feelings no found
Food Stories: Nasi Goreng Berembah
28 July 2010 || 20:09
Time never retard, life can't retake. As I know TODAY and YESTERDAY already have made deep inroads into my memory. The clock tick tock tick tock without tiddly, it's reading fluently, the story of July now. August might be tomorrow, if we gladly accept that to speed up to splurge Monday Tuesday Wednesday Thursday Friday Saturday and Sunday.
Notwithstanding time flies, my brain still malfunctions sometimes. Half shut down, no cherish either minute or second and addicted to the opiate of all-day stoning in the bedroom, counting sheeps or built castle in the air, even cupcakes or muffins too.
Apparently the noise of sunshine resurrected me. Followed mother going to Banting,
a place about 33km away from Klang.
Mother working, brat(me) loitering. Besides working, rest is another thingy. Accidentally, mother found out a thumbs up food near her working area. Before went to MCD Banting
the only one fast food restaurant in Banting.
How poor Banting-ians!,
we headed there early for TABAO
Nasi Goreng Berembah
. It is located at the neglected ground floor of a building that behind The Store Banting. Not a stall but a few tables to working their business. I think it's only available from eleven something in the morning until the end of lunch hour, maybe.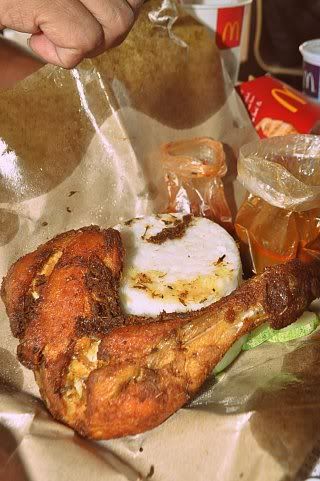 Nasi Goreng Berembah(RM4).
Only one choice. The food are prepared by "sack" or call "wrap". Hmph, package just like you TABAO nasi lemak. Inside the "sack", you'll get a cup of steamed rice without the smell of pandan leaves, a huge chicken wings maybe and two different types of homemade chilis sauce.
There has some skills to savour this delicous Malay food. The best way to eat this Nasi Goreng Berembah is using your clean hands. Learn like Malays pinch some rice and added a slice of chicken meat and sending them into your mouth then. Yummy Yummy!
Actually was my mother taught me how to eat, the step you must follow by,
Firstly, tear the chicken wings( I mean the meat) into pieces.
Secondly, CAMPUR("mix" in English) the homemade of chilis sauce with the steamed rice when you gonna pinch some.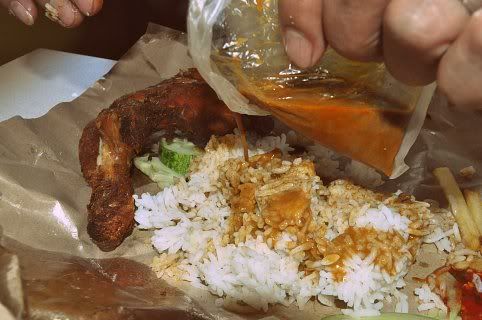 No doubt, this food kinda fresh for me. First time using hands man! By the way, we ate them in MCD. Hey people, don't learn by us, it's not allowed outside food in MCD. But we had no choice, Hehe just let it go.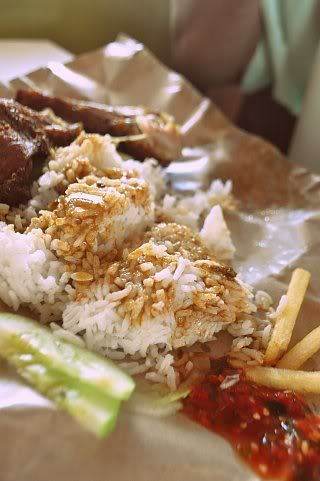 Sundae Pineapple (RM3.30)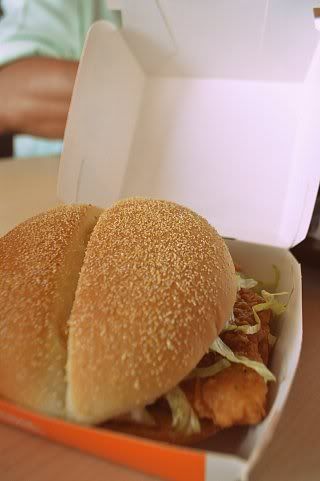 Spicy Chicken McDeluxe (RM7.95 during lunch time)
It was my Nasi Goreng Berembah day. Nice day and a worthy try! So, watcha waiting for!
Go n try, no excuse that you're living far far away from here. Tempting food always won't have deliver service even it's far away from the crowded city too!
It is available at Jalan Wisma, Banting.
Labels: Banting, Malays food
In highway I drive
27 July 2010 || 18:32
Drove randomly to Subang just now. Before headed there, stopped at Bandar Baru Klang first.
Don't ask me why. It was a sudden urge.
My very the five times to be there.
Without shopping mood, straightly went into Guardian to buy Hado Labo Lip Moisturizer because mother wanted when saw their commercial.
Leave Jusco Bukit Raja and going to take Federal Highway to Subang.
The unbelievable thing happened.
I got losted at Bandar Baru Klang!!
I didn't get lost in Subang before but
here
!
Luckily made a u-turn and on the way to Bukit Tinggi and took Kesas then.
On the highway, damn
gan jeong
.
Not because of my skill, it's
CAR problem!
Last time
THE BRAKE WAS INEFFECTIVE ONCE!!!
Said no more to 140km/h anymore!!
Max is only
110km/h
memang like wtf!!!
Turtle man!!!
When I was driving like tortoise,
Lotus Elise
just passed by me like OMG flying.
Arghhhhhh, headache!
I'll train myself like a racer if I am rich!
Okaaay, that's all! No picture!
Labels: random
Dutch Lady at morning shift
26 July 2010 || 10:42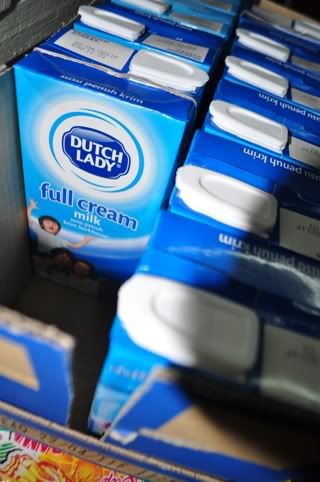 This few days I find out myself kinda random. I shop so often at supermarket! Auntlike. Hahaha, I bought a dozen of Dutch Lady at Tesco on last Saturday. Hmph, cause it was only RM3.79 each, kinda cheap cheap cheap and also the expired date was until 2011. I drank a cup of it just now, dunked some biscuits also. WOOOOO-OOOW, I feel fresh in this morning!
Labels: random
Hello movie-goer!
24 July 2010 || 23:29
Saturday night implies to catch a nice movie instead of go clubbing. Inadvertently, last week heard someone said MBO is damn cheap!! So, what should you do after hearing this news? Yes, my curious prodded me checking their website to ensure the news
IS
a
F.A.C.T
! WOOOOOO-OOW, my jaw dropped.
It's only RM10 for adult during weekends wtf
! Without thinking, straightly drove to review the MBO at Habour Palace, Pandamaran.
Before stepped into MBO, I could feel it was crowded inside there even Habour Palace still a newbie building in Klang. Families friends couples alone-ians.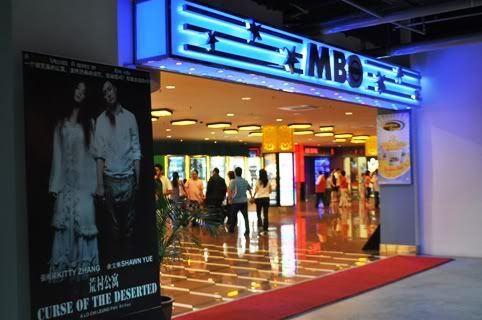 MBO at 7th Floor, Habour Palace



MBO is sweet also. When the lobby open, you will see a showstime-board. Can check the time immediately before go in.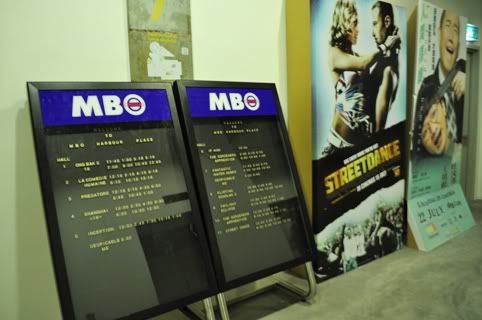 And Yes! This was we gonna watch later and a suphaaaa neglected movie. ---------DESPICABLE ME.
Mr.Gru!!
My little brother was too shy and standing soldierly.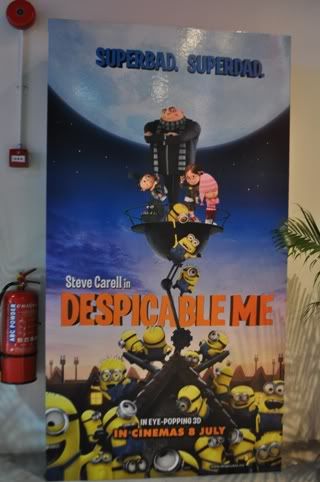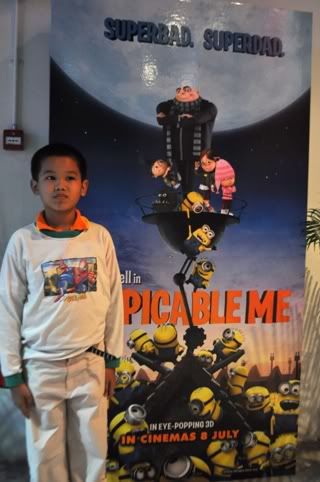 Actually it was my first time to visit MBO cinema, last time only either TGV or GSC. This outlet is quite huge. Lots of posters in different sizes. But some of the posters were outdated.
They divide the cinema into a few sides. This is near the ticket purchase counter.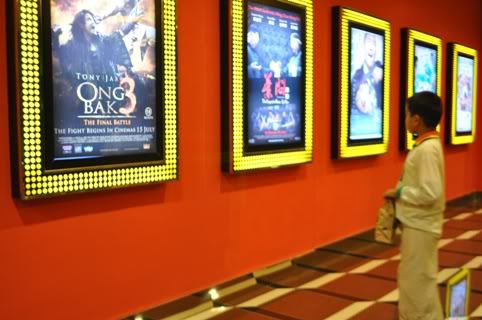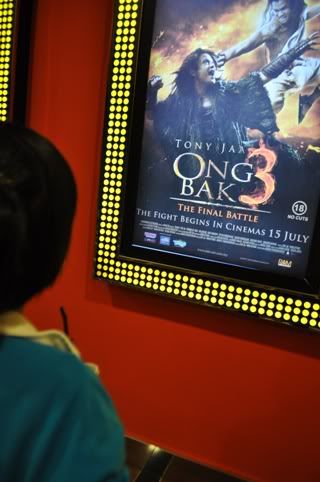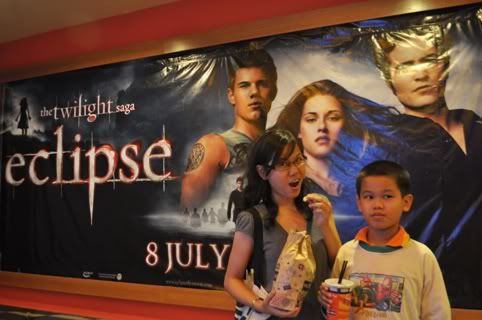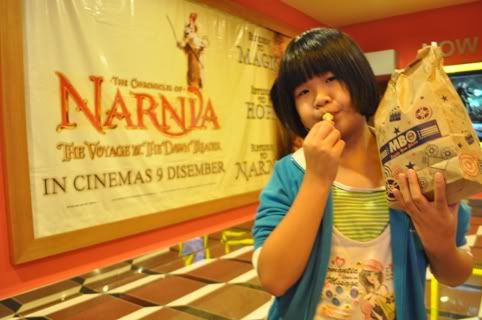 Here is near the entry to watch your movie!
Nom nom counter, sorry for didn't capture the counter. This was only what I snapped. As a food blogger, I didn't think their popcorn was nice, abit tastsless. Haizzz, this was called we get what we paid. Value one(popcorn + 1 soft drink) means medium, I think it's RM4.50. I'm not sure also because I ordered value two, the large one costed me RM6.50.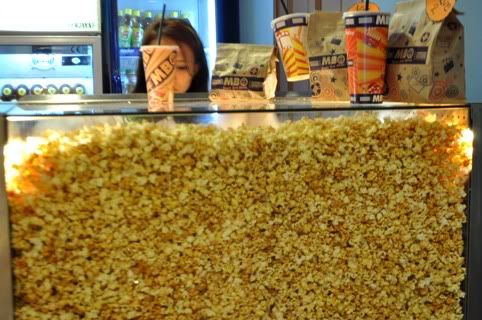 Hehehehehehehe, before watching movie should go this place what! Am I right? Haha! Lame me.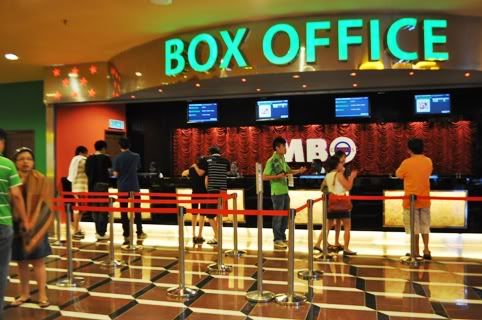 After tickets were done, bye! We were going to watch the cool aloofness DESPICABLE ME! Camwhored.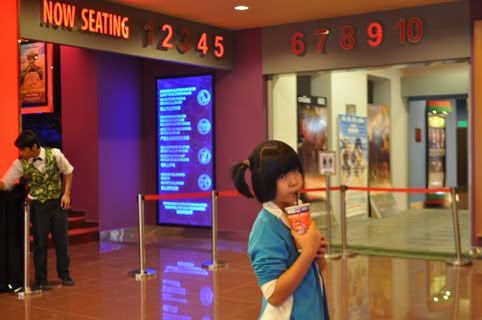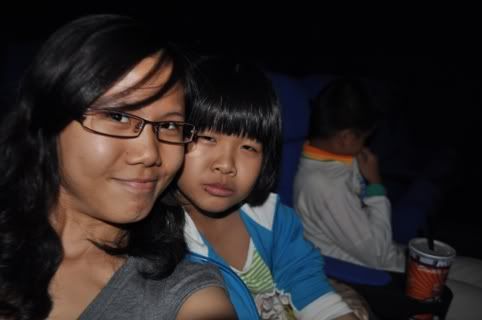 Indahouse!
I had no chance to share you all some pictures when going inside. Yes, if I took out my camera sure will bar me going into the box. Inside it, I felt I was in GSC One Utama, the deco was abit resemble. You could imagine if you have your experience at GSC One Utama!
------------------------------------------------------------------------------
Awooooooooooooo-someeeeeeee! A little upset didn't watch it in 3D! Oh ya, it was hilarious and heart warming. I was totally falling into the song when beginning. Yes yes yes, always addicted to the strong tempo song!


I ♥ Gru like 34857498627609 times!!! French vocal!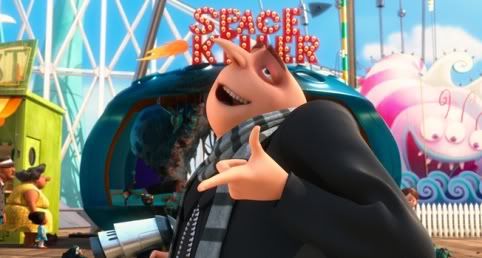 His three adoptive children, Edith Agnes Margo (from left to right)
His yellow and cutie minions!
Whoops! I ain't a bad driver but dangerous. I forgot to turn on the light again when on the road! Damn shit!
I was young I met San Remo
|| 10:28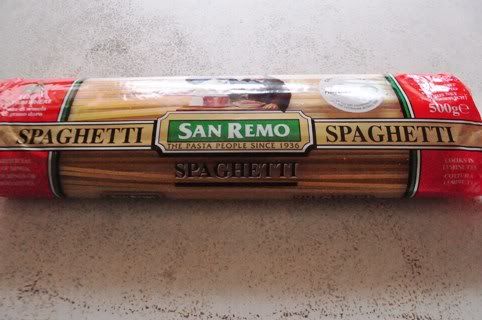 Sure you will not feel strange about San Remo. It's available in all supermarket. I met San Remo when I was young, mummy always bought elbows and cooked it in eastern way. Now, no one bring it home anymore. No one brings the memory back.
So, I bought spaghetti with RM4.80 on last week. Still now, haven't cook it yet. Yes, I need some ingredients and also recipe!!!
Labels: Ingredient
Food Stories: Bangi Kopitiam
23 July 2010 || 10:31
Kopitiams are growing up bambooly in the streets nowadays. If browsing microscopically the menu, the choices are almost same. The only I interest is their restaurant design, special cuisine and also price.
I quite limp recently because of the humin weather. So Tuesday night went out to chill. I found out there had a newbie kopitiam at
Bandar Botanic
. -------
Bangi Kopitiam
, a place fills with antique decor. Uh-huh, or you can say it's Old Town's brother. LOL, just kidding.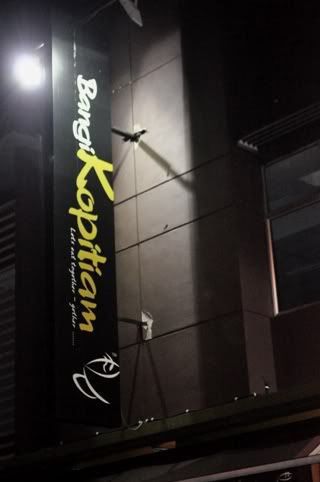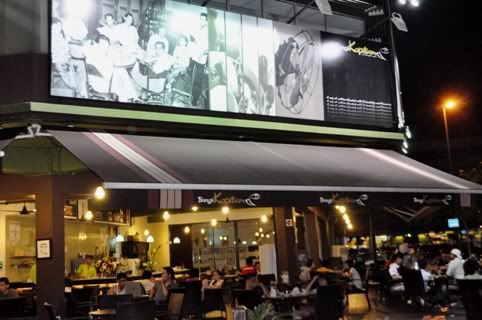 See! Damn crowded-nya!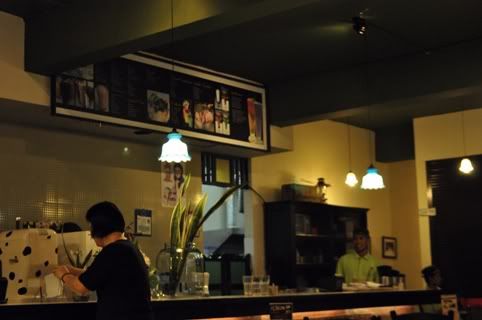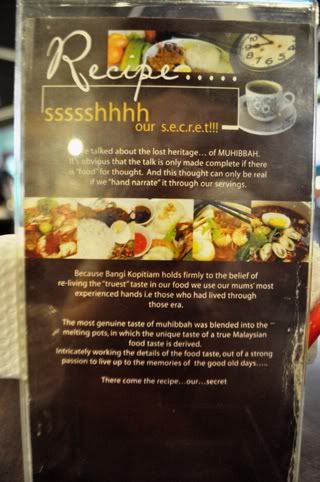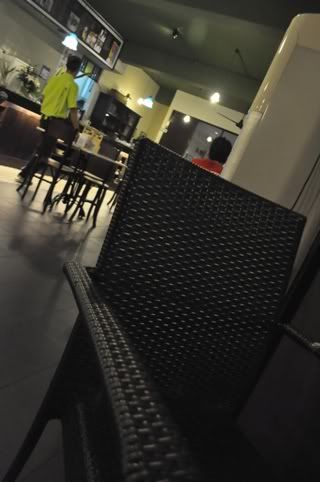 My eyes were glinting with unbelievable when browsing the old and shabby menu. The range of the price of drink & food are only under RM12!! WOOO-OW! It's a BOMB man! Damn cheaply. Of course portion surely will abit smaller than other kopitiam but still acceptable what.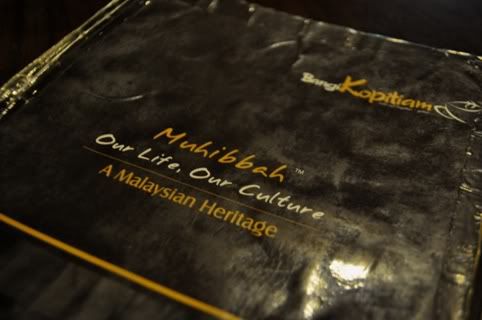 Menu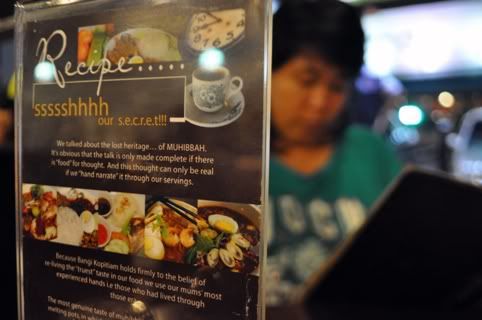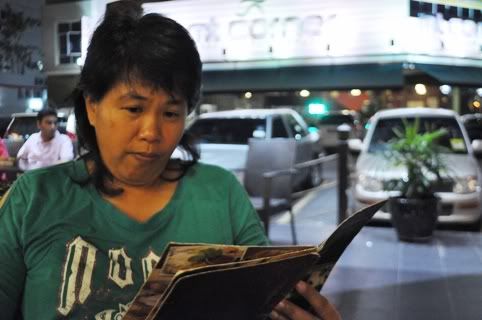 After a few minutes, drinks were served. Cheap and efficiently also.
Bandung Cincau (RM3.50).
The bland taste not bad though, lots of cincau. In that moment, I thought it was one the street beverage of Indonesia.
Because city Bandung is the capital of West Java province in Indonesia.
Who knows!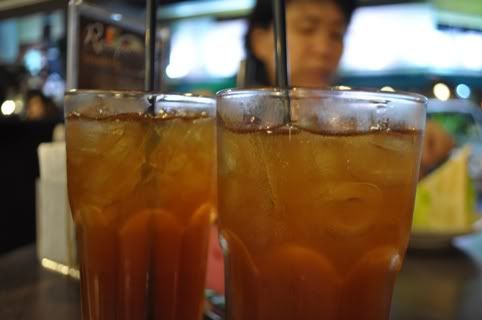 Teh O Limau Cold (RM2.70 each).
Actually we ordered Ice Lemon Tea without seeing menu. But, the waiter misunderstood us and never corrected us. In the end, came out this thing. It's abit sour.
Continue chit-chated abit. Not longer, the food appeared in front of us. efficiently times two.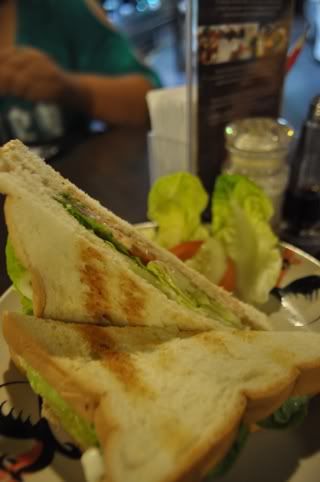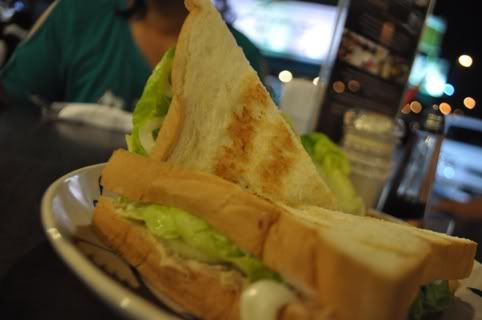 Tuna Sandwich (RM4.50). Yup yup, is a popular type of sandwich. As you know, it is usually made with canned tuna mixed with myonnaise. See the picture! The myonnaise!!! The bread was not over toasted.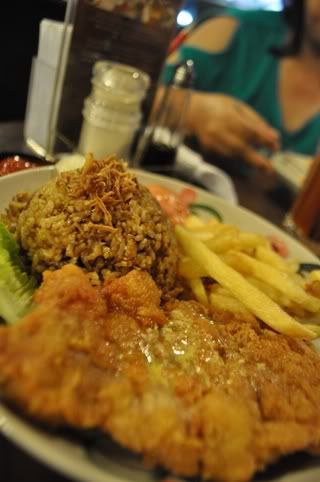 Fried Rice with Chicken Chop (RM8.00). I saw it was one of the signature choices in Bangi Kopitiam. No doubt, it was! Even the portion couldn't served by share, but it was acceptable. You must remember it's only RM8 not RM12+! The fried rice ain't normal. You could see it was black in colour and served with a scatter of fried onion on top. Tasted abit same like sticky rice. You should try this!!
Afterwards, we ordered one more------ dessert!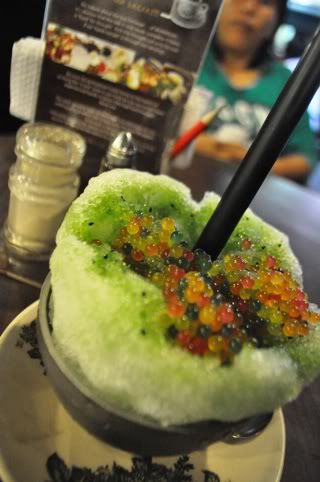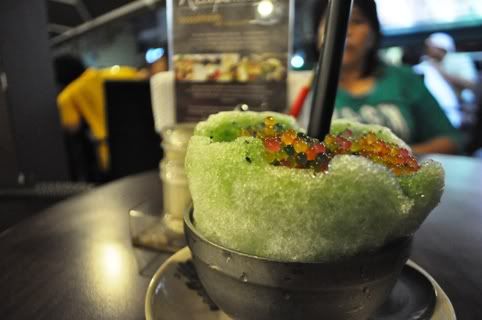 Kiwi Jelly Ball (RM4.20). Um, it was signature choice also. The flavour of kiwi was too much I thought. Couldn't shout but it was okay.
Unluckily recently I'm on diet, and also cause of some issue, mother has limited choices. So, sorry for counldn't present you all lots of food & drinks. If wanna find out more, go and try.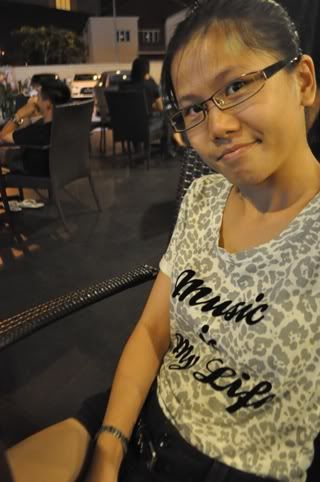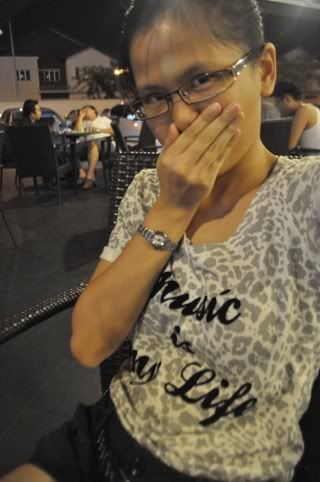 Bangi Kopitiam, Bandar Botanic
62, Jalan Mahogani 1, Bandar Botanic, Klang. (It's just opposite Aeon Jusco Bukit Tinggi.)
Hehe, before leave the place. I snapped this picture. There had a gang of Lancer goers buzzing at Bangi Kopitiam. Here's their car.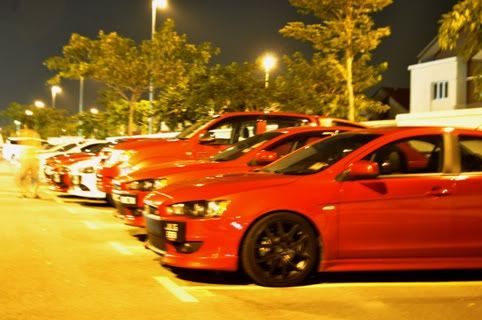 Feel free and want to know more about Bangi Kopitiam? Please do check Bangi Kopitiam.
Labels: Bandar Botanic, Klang, Kopitiam