Error 303: Feelings no found
Beware people, something swells
29 June 2010 || 19:02



Satanism leads fashion. Queer is not bad things, either. Just like something hmph-abit-abnormal. Motherearth is sick, insensate calamity, rumour whispers, knave borns, heart loses in the melee, even GAGA sings. Otherwise, satan-minded will not be mental to grow speedly in fashionland.
Welcome 2012 is ain't contra-indication. Yeah, people love to go hell but death is too scary for them. Everything is polluted. No more time to wait Jesus coming. Make sure your gear-change smoothly and ready to fight in today but not tomorrow.
Labels: words
I mean, really DAMN-SHIT-FUCKED-UP!
28 June 2010 || 20:22



Blast! Brain is badly rusted after an inordinate period not to be nerd. I mean STUDY THINGY!Musty books, scatter-brained. Feel slightly nausea when the words keep running in front of my eyes. Notes never blot in my memory card. Hell, really look blankly at them! Really shit, I don't think I deserve to work for this fart things. Uh!
C'mon c'mon! Just ditch them! The sounds always silently will me when open the books.
.............
...................
(when typing)
Beee Beee Beee~
...............
...................
My brain gives a regular bleep. Wootz, it's time to stop and then grab some Sushiss replenishing the rest of the day! Hurray!

Ps, Hey guys, speed up and join Puffylab, the online tees shop that sells awesome tees! When you invite 15 people to join, you can get the the Puffy lab awesome RED launch tee!!! So what you waiting for!!!! Go go go and join, just a click! :)

Hehe, grab this picture from the their website!
Labels: feeling
Pee-ka-boo!
25 June 2010 || 03:42
Hey, to all my dudes and chicks, please pay 99.9% attention here.
The owner of this bloggie, me, will not so often to update her blog from now until the jail break!
Sorry to be neglect here. I promise will be update

if I've American time

.
Yes,

PROCRASTINATE

is my forte. I've been frigging about few months. Now, it's time to speed up to mitigate my anxiety.
Hope will not screw all the papers. Jesus must bless me.

Fingers and toes crossed.
Ps, gonna apologize to mama, your daughter is not borned to study. Study life is a fag for her. You know one, she is happy with her shitty working life.
Sorry, mum. This time please don't get a high expectation from me.
I'll make you jaw dropped and speechless.
Labels: random
Dim Sum Bay
23 June 2010 || 21:16
I don't know why I typed "DIM SUM" plus a word "BAY". I didn't want to type it, but my conscience was prodding me. I felt a little worn and had a nonalcoholic hangover in this morning. Maybe I was not recover yet, abit sick. Yes, I needed a good strong shot of caffeine. But, my mama stopped me and brought me out for breakfast. You might be curious why MADAM tagged me for breakfast. Yup, today all my family members are going to attend a dinner at Sekinchan.

They're enjoying there now! Uh!

So, mama took leave!



It was my very virginly using

Canon IXUS 120 IS

. I kinda didn't like this model, colour too pure. But, no choice and I edited them abit. Actually I seldom edit photos and this time using Microsoft Office Picture Manager to paint! Hehe, Ahmoi tak ada Photoshoot this kind of high tech thingy. Shameness.
Only DIM SUM photos, and I didn't show up.

Not FOOD POST

, don't misunderstanding.

Take noted, I'll entitle FOOD STORIES in front of the title when I post a food post!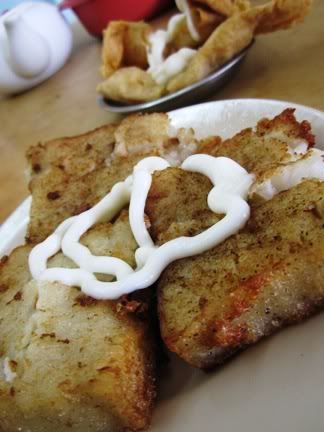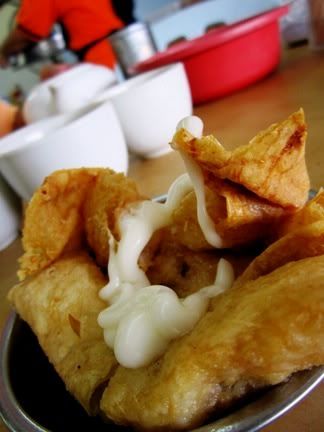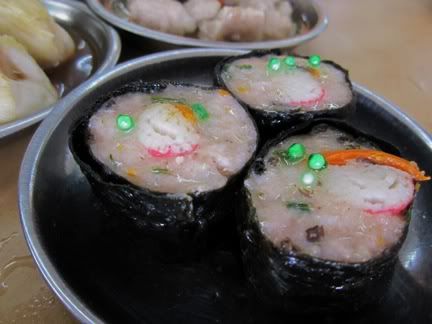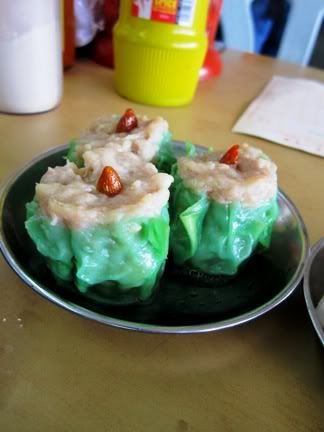 Um, I should say Bukit Tinggi, Klang DIM SUM sucks! Klang only done well Bah Kut Teh and DIM SUM, Um I think they still need some years. Because Klangians eat Bah Kut Teh as breakfast is a habit! DIM SUM only weekends.
I still prefer homie Cheras DIM SUM! ♥ ♥
Hello readers, it's just a short post. I'm sick now.
Last Sunday
22 June 2010 || 23:58
Last Sunday morning, lapis lazulli blue sky, movement of air was a largo. Birds were nesting. It was not a bad day. I mentioned IT WAS NOT A BAD DAY because my kin came down to Klang! Hurray!


Everybody was busying messed together with their father/papa/daddy/ojisan and surprised him. Father's Day didn't make sounds for my cousin and I. We come from single-parent family.

Um, my father passed away few years ago. Now, I've a stepdaddy but not so close. I'll be story telling if the day I still remember to tell you all.

Nevertheless, this bad news didn't beat us down. Retouch part of sad memories, we still living good. Alive is a gift, live to life is a lucky thingy.


As usual, headed to Kaw 16, Taman Intan, Klang to meet up my lovely aunt and cousin for Bah Kut Teh as our breakfast. Tamn Intan is a another place well known in Klang which is Bah Kut Teh paradise.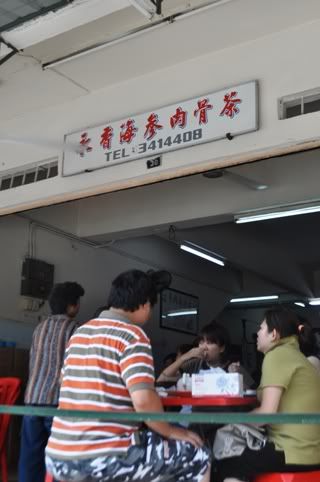 Maybe plethore of bustle in the half of the life, I ernestly perceived, on my aunt and mama's visage, the wrinkles exaggerating. Old age crept up on them and enshrouded their beauty.

A good cook, my aunt. Always gain weight when stay at her house. Oh ya Cheras, miss!

Mama was pouring the tea. By George! Gentle-nya.

Cousin peeped at my mama. She wanna learn too?! Wink.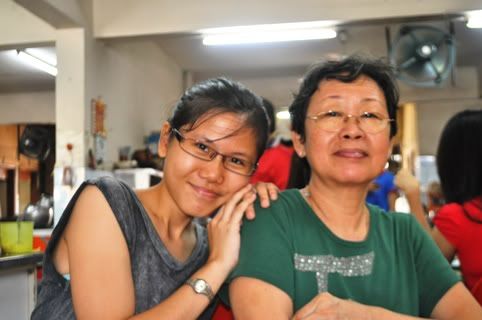 Run to fat recently. Yup, thanks for the snack foods and lack-lustre life, I'm an obese bitch right now.
Be situated on in a knife-edge, they're gonna fighting! Haha, just joke.
So shy.
Finale! Bah Kut Teh were been served.


See, my cousin memang banyak pattern. Apa-apa pun ada.


Time flies. It's the end of June. Oh my god. OMG OMG.
Labels: family, Food- BKT, Klang
Old McDonald Had A Farm
19 June 2010 || 17:52
I'm quite lazy during the languid weekends. I always skip my breakfast when it's either Saturday or Sunday.

It's ain't a healthy way, don't learn.

Thanks to the very effective blackout drapes, I have no idea if it is morning or night.


Around one sounds, phoned mother for borrowing the car. I would drive to Subang just a MCD if my mother no nagging me. I responded mother that I want to go SS15 MCD because behind it's Starbucks! Mother scolded me L.A.M.E. In the end ended up at the nearest MCD.





I ♥ MCD LUNCH HOURS! It's worth to lunch. Especially available from 12pm to 3pm everyday. So what are you waiting now! Go n' grab it!



Ordered

Spicy Chicked McDeluxe(RM7.95)

as usual. It was my breakfast!!

A quite late "breakfast" at 2pm

*cough cough






Since I was craving for ice-cream recently, Oreo McFlurry(RM3.95) as my dessert. But, my sister wolfed it down. T______T


Actually I wanted to order Happy Meal and my little sister started to gaze at me in disbelief. She said,

"OMG, you this gaint-size-child will gonna scare people!" I was speechless.
Kinda lack of sleep nowadays, Ohya granted. FIFA took my nights. My eye bags became more obviously. Darn it!
Vampire in the house! Be careful.
My sister looked tired too. She was crazing for taiwanese dramas till midnight.
We're nocturnal birds!!!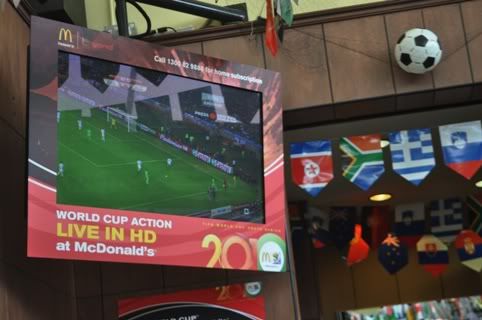 Wookay, gonna stopped it here. It was my Saturday! And also tagged a video to share you all.
Ps, I should do this just now! A creative way to order Mcd! XD
Food Stories: Snowflake, SS15
16 June 2010 || 20:09
Last post I already told we off to SS15 for a confection. BINGO! You were right. The popular Taiwanese dessert in S.N.O.W.F.L.A.K.E!!!
"Huh!" my cousin said, gazing at me in wonder when I said to bring him to somewhere. When I was in Sunway, everytime only passed by the shop and peeping. That day was my only first time stepped into it. Grinned.
Snowflake, SS15
Snowflake is located at 1st Floor
Wow, the shop was rather cramped. We'd have to squeeze into the shop and quickly grabbed a pew. Maybe it was Sunday, crowded and hubbub like night market WTF. Self-service, walked to the counter, ordered and paid then.
Afterwards, they would give you this interesting baby gadget. Haha. It was so freshly to me.

Beep Beep in moi hand.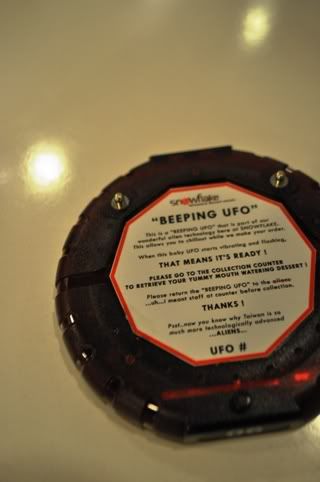 "Beeping UFO". It wrote,
This is a "Beeping UFO" that is a part of our wonderful alien technology here at Snowflake. This allows you to chillout while we make your order.
When this baby UFO starts vibrating and flashing, That means it's ready!
Haha. This was what I did while waiting the dessert,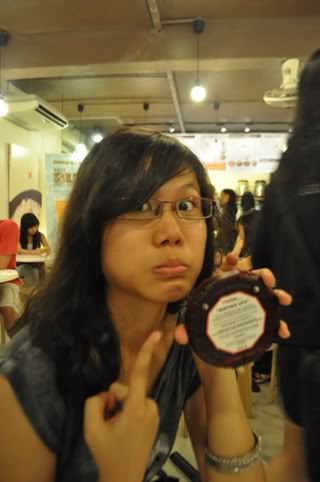 "WTF, UFO! The owner is an alien! And this thingy is used to phone Bossy Alien to come out! Really? MAMA, faster phone 999!" This was the first time expression when I got my own BEEP BEEP UFO. Monkey face.


But, before it, I was barbaric trying to munch this inedible-looking snack! "Rawr, Imma hungry now! Come come come, come into my mouth please."

Wookay, please ignore that girl and took your ease. I already sent her to meet the Bossy Alien!
When I was so busy comtemplating the ramifications of the taiwanese brilliant idea. The BEEP BEEP UFO suddenly vibrated and flashing.


Yup, collection time! Faster return the BEEP BEEP UFO to the aliens... I meant staffs to collect my dessert.

Best seller(with flash & close up photo). Before adding the cream, but I think actually it was milk.

Best seller(with flash & close up photo). After adding cream, is it look more adorable?
The best seller(cold, RM6.00). Inside the bowl had grass jelly, grass jelly ice, taroballs, creamer. I just knew my cousin should wolf down this bowl before the ice became to melt. Wink. It was fresh to me when I tasted its green grass jelly ice. Yeah, it flavoured the shaved ice with grass jelly. Not bad though. Hmph, I found out the taroballs quite chewy and abit tasteless.
Best seller.
Here come another dessert that I picked up,

Soya Ice Series with Set 5
Soya Ice Series(Set 5, RM5.50). Inside the bowl had black glutinous rice, pearl and kidney bean. Yeah yeah, Imma one of the SOYA fans. Awesome too when soya met the ingredients. I just savoured slowly and my taste buds were enjoying.


Soya Series with Set 5
My jaw dropped when I collected. The portion was huge for me. But, I saw other food blog, it showed me small in size also. Em, no idea. No doubt, I was enjoying the dessert. It gradually exorcized my feeling of sad. I felt it. Because I'm still in sugar high when it's already Wednesday now!! Maybe I'm the poor girl without sweet love can feel this kind miracle thingy. I rate 4/5 for it. I'll back again for the TAO FU FA series. Wait me.
Ignore me. 'Cause less posse V in real. Sugar high after the dessert.
Snowflake
No.61A, First Floor,Jalan SS15/8A,47500 Subang Jaya,Selangor.Tel: 017-623 8966
P4.01.00 & E4.01.00Pavilion KL168 Jalan Bukit Bintang,55100 Kuala Lumpur.(outside Padini Concept Store)