Error 303: Feelings no found
Food Stories: Hong Kong Dessert, Bukit Tinggi
16 November 2010 || 21:59
Finale!
The very first Hong Kong dessert house in Klang! It's located at Bukit Tinggi!!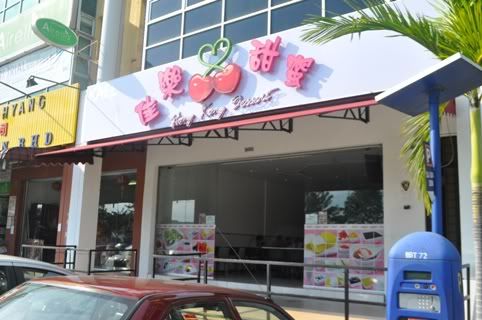 Last time when I was passing there, it was still under construction. And now, it's already opened! I thought it would not so full when on the way went to try their dessert. Because it's still a newbie in Bukit Tinggi. Out of my expectation, it was FULL HOUSE when I was at door step! Luckily there still a table left.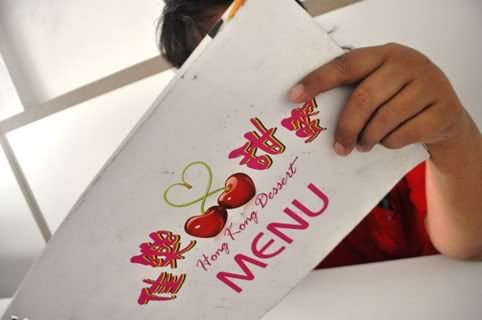 It was lack of workers there, so it took some times to serve our dessert. Finale!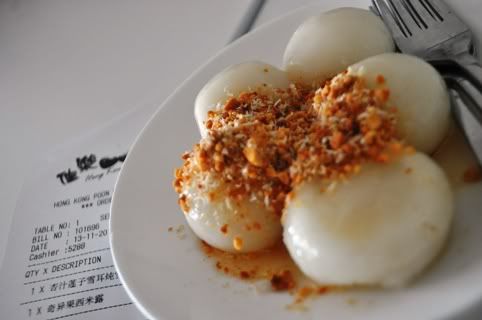 Sweet rice ball coated with crushed peanut and white sesame糖不甩 (Hot, RM6)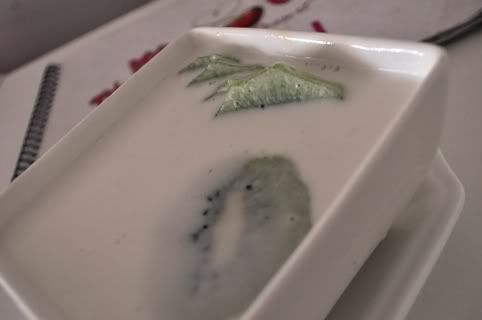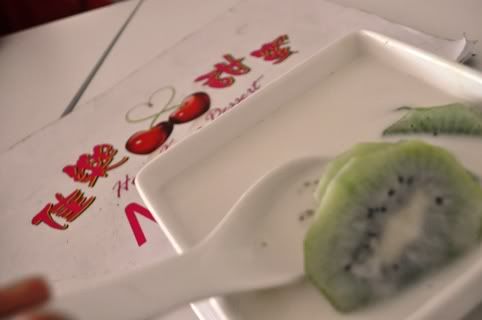 Sago with Kiwi 奇异果西米露 (Cold, RM5.50)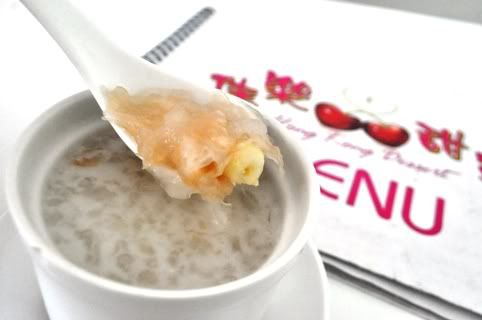 Lotus seeds with white fungus stewed hasma in almond soup 杏汁莲子雪耳炖雪蛤膏 (Cold, RM15)





Its dessert prices are rating from RM4 to RM16. Maybe I'm an a bit slippy person, because all of desserts we tried couldn't make us shout. Somemore, I think some of them were stated in over- price. But, if you really miss dessert in a sudden urge, may be you can give a chance and try it! (Hmph, I still prefer my aunt home-made dessert or----- SNOWFLAKES!)


Hong Kong Dessert (same row with Station 1)
B 4-12-0, Jalan Batu Nilam 3,
Bandar Bukit Tinggi,
41200 Klang, Selangor.
016- 600 4432
Business Hour: Open Daily from 11am to 1am
Labels: Bukit Tinggi, Dessert
What Keeps Me Away ---
15 November 2010 || 11:49
People always say I seem so laid-back, going here and there, eat here and there and shopping like everyday. I also hope I'm Paris Hilton, in fact I've no that luck. I'm becoming a potterer during this few months, I hope all this things can write a full stop after my coming exam and I'm really poorly prepared for it.
Phew! Let's stop talking about it. Last Thursday went to Sunway Pyramid and messing about in the shopping mall for three hours. Afterwards, down to Klang and watched movie at Aeon Jusco Bukit Tinggi. I'm an out-dated movie-goer and now only watched TAKERS. I love T.I when he's rapping. I love his songs especially the named "I'm back". Actually I wanted to watch UNSTOPPABLE too, but all full of the day. It(TAKERS) was a matinee so I could easily purchase nice seat. Luckily me.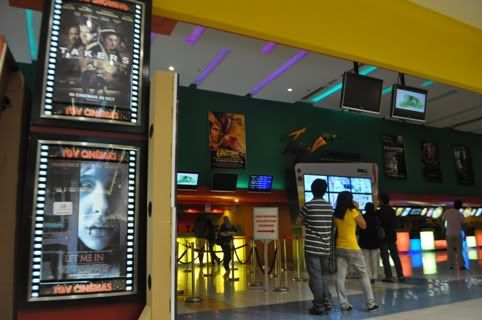 TGV at Aeon Jusco Bukit Tinggi



Today article, TAKERS! Woooo-oow! My T.I is in the screen! :)






JENG JENG! Before the movie started ---------


My new beige pump shoes from Vincci, it hurt my toes after a long day walking! Naughty!
Urh, I should buy the Charles & Keith one, but I knew someone will be mad if I do that when I'm jobless. Economize people, E C O N O M I Z E!!

Outfits of the day, UNIQLO mickey collection shirt; COTTON ON leggings; Vincci pump shoes.






Yeah, tomorrow may be go to watch MEGAMIND! :))

Ps, I want to watch FASTER and TRON on next month! (mark-ing down on my schedule!!)
Labels: movie
If you couldn't dream the fact
12 November 2010 || 21:12
if you simply look at the photos, you might never attain what could be. I learn something from here, might be yes, might be no. Something without pressure, a sudden feeling leisure.
Yup, human learns from failure.
"Be the change that you want to see in the world".
- Mohandas Gandhi
Labels: words
Black Belt Spirit Watch
10 November 2010 || 14:15
Following the success of the exclusive Black Belt Watch comes a more accessible incarnation with all the heart of the original. Made in Switzerland, the Black Belt Watch is made available only to holders of certified black belts in a martial art. Owners of a Black Belt Watch must be members of an exclusive club of dedicated individuals who have displayed the values necessary to master a traditional fighting art.

The very people responsible for the Black Belt Watch are proud to now announce a second timepiece. Imbued with the same values as the original Black Belt watch, the Black Belt Spirit watch carries with it the same values and responsibilities as the original. Owners of a Black Belt Spirit watch will be asked to agree to live by a code of values. The same values that traditional Japanese Samurai were bonded to live by. The purchasing contract for the Black Belt Spirit Watch stipulates that its owner will follow the ancestral tradition of the Budokai to always have: respect, honor, courage, loyalty and rectitude. These are the principles of the Black Belt watch - values it owners will always remember when wearing the watch.
Appealing to a wider audience the Black Belt Spirit watch will be available to anyone with a strong sense of value at a very affordable price.


Retail $299

Woooo-oow! Its design quite admire me, especially there has Chinese word on it! :)
Labels: random
1, 2, 3 ------- 病例记
|| 11:44
我知道. 我知道, 这里早已堆了一层灰, 心也不再热. 不要惊讶为何这不是英文, 只是本人一时的心血来潮. 对于看不谙华语的读者先说声抱歉 sorry if you can't read Chinese.
哔! 哔哔! 哔哔哔地敲响了警钟. 日历翻上了十一月, 终极任务快要来了, 我却无动于衷. 人家说七年之痒, 我却 "七个月之痒", 不小心地挥霍地血拼! 我爱奢华给我的诱惑! 我爱高贵给我的崇拜. 是的, 直接点, 我算是个品牌的俘虏, 但可不是那种盲目地追从, 而是付担得起的时尚. 可惜啊可惜, 却患上先天性穷家女, 中天性败家女------ 嘻嘻,至于后天性呢, 还是个未知数(当然是要后天性成功有钱女!). 医生说这种病无药可救, 只要病人(我) 保持清醒, 病情就不会恶化.
1
1月4日, 因病人忘了服药, 病情发作.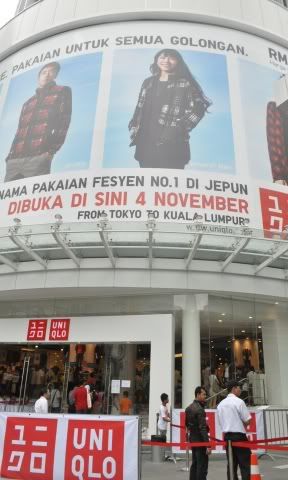 当天 UNIQLO 这日本品牌开张, 迎来了无数的崇拜者. 我当然是很想当那超级幸运的首 1000名崇拜者, 可以不费金钱就可以轻轻松松地得到一个有用的 UNIQLO tote bag.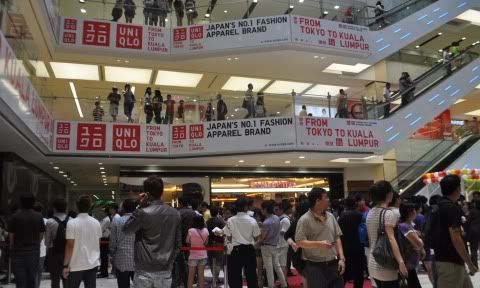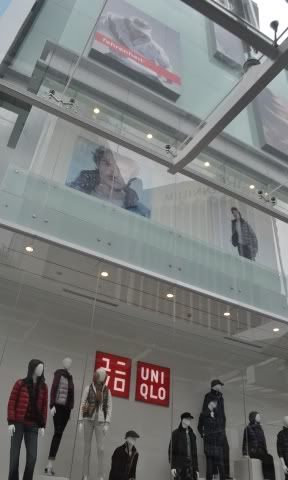 只可惜, 老年不中用的闹钟在那天告别人世. 结果害我从 11点排了个有龙那么长的队, 等了 3个小时多的钟头, 然后怀着好像中了头奖似的那种兴奋踏入白晰晰的 UNIQLO店里. 花了个两个小时多跟欧巴桑、时尚达人打斗地选衣服, 然后排队试衣, 然后排队付账. 由于不想在KL shopping时撞衣, 低调地选了些可以当便衣在家穿的, 但也心痒痒地选了几件 Mickey系列的衣服加上 leggings. 而出了名的 UJ、UT、 Fleece系列却不在我的名单里面. 嗯, 我喜欢它们一些的布料, 舒适.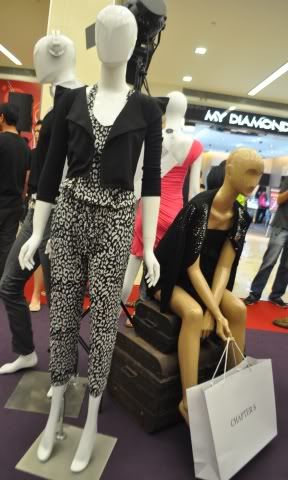 刚才在排队的当中, 我的视线不知不觉地停留在这服饰上, 它被我盯上了! 结果把它拍了下来, 下次会去 survey一下下, CHAPTER 8! 没法子, 本人的服饰与鞋不是被B G W (black, grey, white) 路线给粘着, 就是 beige/nude/muse给吻上抑或是当了胆大的热情火烧的red/神秘诱人的 purple的傀儡.





五点多了, 苍穹羞答答地被乌云遮上了, 是时候回家了. 离开 Farenheit 88时, 望了望, WOOOW! 你看, 还有人在排队耶! 疯狂嘛!




一, 二, 三, 木头人!
Ps, 病人当晚兴奋地失眠了. 还记得凌晨入睡时, 手里还握着 UNIQLO的 tote bag呢! 幸福.
-----------------------------------------------------------------------------
11月6日, 病情归病情, 病人的肚子咕噜咕噜叫了起来.
听说 Bandar Botanic, Klang里开了间 BBQ & Steamboat的店, 我不再需要跑到 Kuchai Lama了. 老实说, 我还是个 BBQ 菜鸟, 一窍不通.

老天不作美, 当晚下起了雨. 对我而言是好事,但对店主来说可不是这么说.他们少了很多生意, 我却为这场雨带来的凉快的高兴, 因为不需要吃到满头大汗.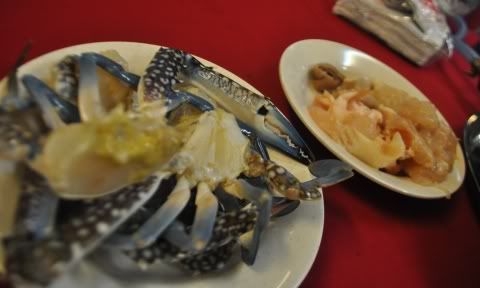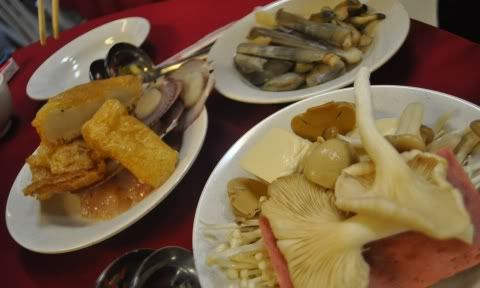 我没有到食材区去拍照, 只是随便地马马虎虎地拍了自己拿的一些食物. 但是我可以说他们的选择虽然暂时不能与 Sunway Mentari一带的 steamboat 店媲美, 不过对于肉食达人来说是个好消息, 他们的肉类较多, 鱼丸系列较少, 雪糕、面条与蔬菜和其他店没什么两样, 所以我觉得大人来吃较值得. 当然还是要考量到这间店是走BBQ & steamboat 路线的, 鱼丸系列不会特别多却又不至于不够给你选. (ps, 对于他们的鱼片,可不要手软哦!因为够 chewy and fresh!)





食物被等待着--------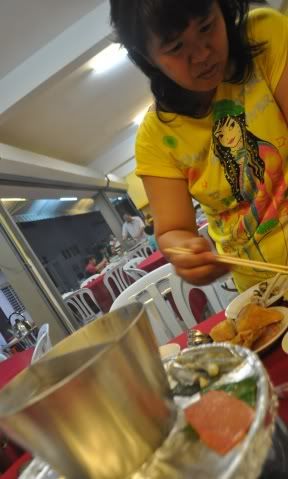 勤劳 VS 懒惰


注意咯! 有好消息! 老板告诉我他们在 15/11 至 21/11有优惠, 一律半价! 而且, 若在 4/11- 3/12 期间消费, 还有可能赢取一台 LCD TV. Attention here, New Taste Restaurant has a special 50% discount for per head during 15/11 until 21/11. And also, you will stand a chance a win a LCD TV if you dine at there during 4/11 until 3/12, winner will be release at 3/12 night.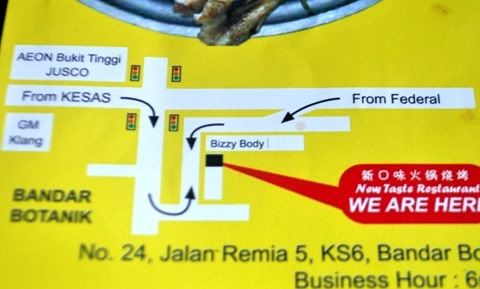 Adult: RM24.80 nett, Children: Half price (include drinks & fruits)
New Taste Restaurant
No.24, Jalan Remia 5, KS6,
Bandar Botanic,
41200 Klang, Selangor.
Business Hour: 6pm- 12am


---------------------------------------------------------------------


11月7日, 由于病人对 UNIQLO的新开张4 天特别优惠还不死心, 又跑了 Bukit Bintang一趟.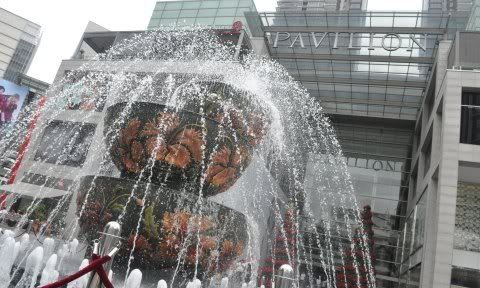 其实那天也没什么逛到街, 所以又跑去 Bukit Bintang逛街了. 老实说, 除了Lot 10的Debenhams, Farenheit 88的UNIQLO和CHAPTER 8, 我就迈向 Pavilion. 进了平时爱逛的店, 结果毫无收获. 感觉上这期间的服饰都没什么新鲜, 好像都大同小异. 在一些鞋店试了鞋子, 可惜没有我的鞋号. 结果才买了一对.
今天看见好多人的手提着一袋袋的 UNIQLO袋子. 我还是再去排了队, 进了一次 UNIQLO最后一天的特别优惠, 想买上次没买的衣服和 leggings, 瞎逛了一圈, 货没了. 原本是想再凑住 RM200 拿个tote bag也落空了.
心是矛盾的.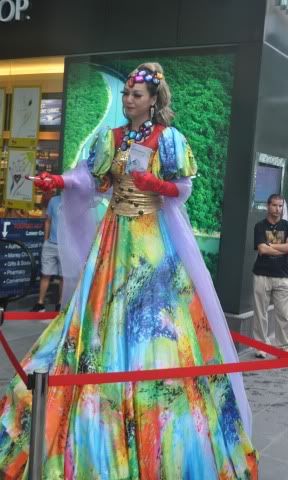 回去的路前, 看到了 The Body Shop巨美女在路旁给人试他们新系列的香水. 我记得堂姐买了这系列的 lotion, 味道挺香的! 美女还迎来了不少 camera man呢!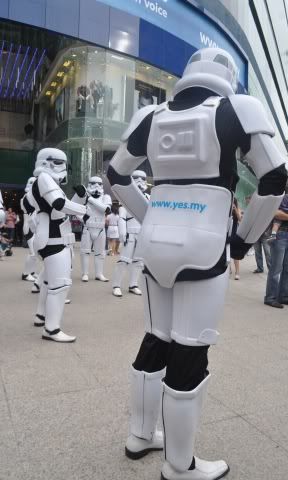 过后又看到了一群怪咖Mr.Robots 在跳 Wonder Girls 的Nobody. 还真是个OMG!




11月的第一个盲目的星期过了, 而第四个星期就是我这2010年的终极任务-------- 迟来的spm. 怎么说迟来的呢?! 嗯, 我也不想在作任何解释, 去问懂我的人吧! 我没什么去奋斗, 只抱着 "PASS"的心态去应付. 不要讲我说瞎话, 难道你没闻到认真的语气吗? 哈.





Ps, 我的华文的确退步了很多!
Labels: Bandar Botanic, shopping