Error 303: Feelings no found
Food Stories: Restaurant Hing Kee, Bandar Bayu Tinggi
08 October 2010 || 13:42
Hey my lovely readers, if you're reading my every post properly and remember I wrote a post about DA TOU SU before and you'll get the exact direction of Bandar Bayu Tinggi. Yes, another nice restaurant worth to check out in Bandar Bayu Tinggi. Restaurant Hing Kee is not located of facing the bustling street like DA TOU SU, but hiding at a quiet, inside and inconspicuous center of the area.

We were bound for eating Bah Kut Teh at that area when first time around there and unluckily the restaurant was off and fate brought us to this still-unknown-right-now restaurant. A peculiar Chinese words "刹肉" glimmered and attracted two plump gourmands, our eyes. We were in a hurry in that morning so we had to make do with a quick meal and simply ordered some dishes which LOU BAN LIONG suggested. I thought the dishes only tasted so-so but they came out to prove me wrong. Just fancy! The mouthwatering food almost over satisfied me! So, this time paid second visit and tagged my camera along, too.





If you are first time to taste FU ZHOU cuisine like me, may be you can ask the LOU BAN LIONG suggests some must-eat-dishes. She is friendly to introduce all the dishes to every new customer. I couldn't remember all the names because all of them sounded a bit weird long and seemed like in very fantastic taste.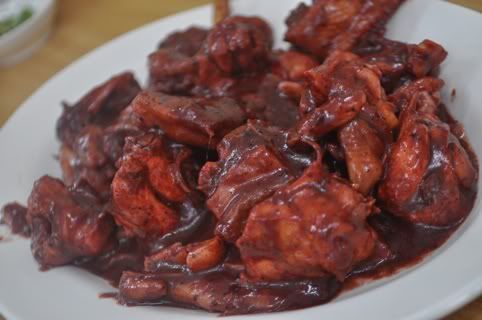 HONG ZHAO GAI (红傮鸡 RM16) was cooked with a special way. Hard to describe the taste but you could smell a wine odour when the chicken meat was close to your mouth. The meat was chewy.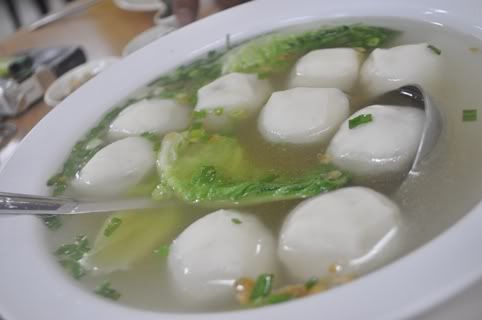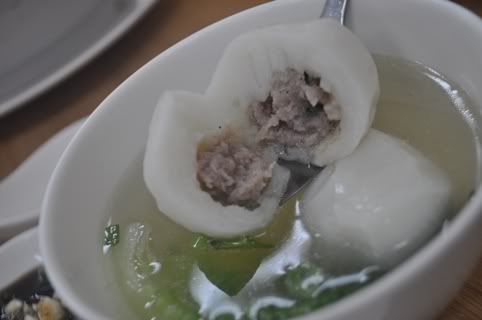 Same as the last time we ordered, Home-made Fishball Soup (RM9, RM1 for each). The amount of fishball depends on you and I think 3 is a minimum. It was ain't an ordinary fishball and had meat inside it. Quite elastic! Also, the soup was different with others.






At last, Cooked Fish with Curry Powder (RM12). It was a quite normal dish. Couldn't make me shout also.



Anyhow, I still more satisfied with last time but didn't mean disappointed at this time. I'll come more and taste other dishes. Hope will have surprise in next time, cheers!






Restaurant Hing Kee
No.2, Lorong Bayu Tinggi 1C/KS6,
Batu Unjur, 41200 Klang,
Selangor.
019-204 8988
Monday off.
Tue until Fri: 8am- 3pm
Sat and Sun: 9:30am- 3pm & 5:30pm- 9pm
Labels: Batu Tinggi, Klang