Error 303: Feelings no found
What Keeps Me Away ---
15 November 2010 || 11:49
People always say I seem so laid-back, going here and there, eat here and there and shopping like everyday. I also hope I'm Paris Hilton, in fact I've no that luck. I'm becoming a potterer during this few months, I hope all this things can write a full stop after my coming exam and I'm really poorly prepared for it.
Phew! Let's stop talking about it. Last Thursday went to Sunway Pyramid and messing about in the shopping mall for three hours. Afterwards, down to Klang and watched movie at Aeon Jusco Bukit Tinggi. I'm an out-dated movie-goer and now only watched TAKERS. I love T.I when he's rapping. I love his songs especially the named "I'm back". Actually I wanted to watch UNSTOPPABLE too, but all full of the day. It(TAKERS) was a matinee so I could easily purchase nice seat. Luckily me.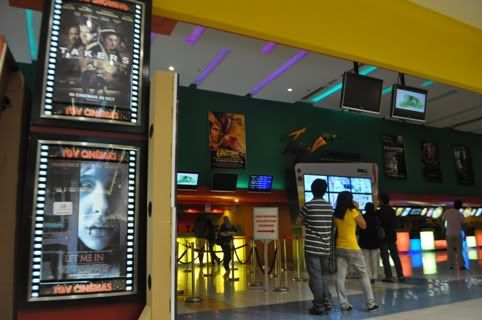 TGV at Aeon Jusco Bukit Tinggi



Today article, TAKERS! Woooo-oow! My T.I is in the screen! :)






JENG JENG! Before the movie started ---------


My new beige pump shoes from Vincci, it hurt my toes after a long day walking! Naughty!
Urh, I should buy the Charles & Keith one, but I knew someone will be mad if I do that when I'm jobless. Economize people, E C O N O M I Z E!!

Outfits of the day, UNIQLO mickey collection shirt; COTTON ON leggings; Vincci pump shoes.






Yeah, tomorrow may be go to watch MEGAMIND! :))

Ps, I want to watch FASTER and TRON on next month! (mark-ing down on my schedule!!)
Labels: movie