Error 303: Feelings no found
Park at the pergola
02 September 2010 || 13:58
Wookay, my "dead"line is coming soon. Every day brings it near! A wretched November is gonna hitting my calendar. Phew, quite headache! Just forgive it and happy myself first. I was practically living like the life of a recluse during this few meaningless months. No doubt, I scarcely stepped out from the house and met fresh air. I sealed myself in the pitch-dark, rejected brightness. Saturated myself in the past, saturnine. I had no idea why the old negative me back again. Question marks popped out and gyrating me. I was sad, or might be not. I was happy, or might be not. Nevertheless, this kind of weird feeling was been giving me gyp. I lost my gumption and no gusto with every single thing! I was sick into hysterics!!
But, this thing didn't mounting until I chilled with my long lost friend. Just a completely random message, I was going to meet up Innie and Bell. Unluckily Bell didn't show up on that day. She felt unwell. OMG, poor Bell! Hope you're pink now.
Rainy day never wrecked our plans. Even streets congested with traffic, and it chimed in with us. Because what! We had more time to have an unstopped chin-wag. As I knew, we were busying in different circle of friends and seldom talked to each other when junior in high school. Accidentally, we became a bit close after the friendship trip of Langkawi (I think) and she started to cock-up my ordinary life! HAHA. She is a cool friend for me. Altruist and friendly like your real sister. Feel relieved when blah with her.
Okay, let's get back the title. We were ambling down to the Subang SS15 first to settle our dinner at TAIWAN NIGHT MARKET and "shopping" in RT PASTRY HOUSE afterwards. We spent more than RM30 inside a bread shop! If you're a true gourment, you will know how ambrosia the bread is. But, I found out some of them a bit tasteless. Don't know why, may be my tongue malfunctioned on that day.
Finished the DO'S in SS15, we headed to Skewers to nestle our pretty night. Since raining just now, sat at outdoors made us felt a bit nippy. Woppa! Booze time babe! However, I puked horribly caused by some reason the day before so I didn't drink too much at here. Innie felt disappointed and blamed me dumped her alone. Yes, I broke the perfection and the phenomenal ambiance.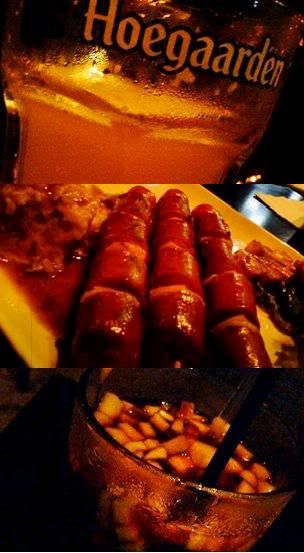 Glutton me couldn't satisfied the meal at TNM and I so ordered Bangers On A Skewers(RM17) just for nom nom. Pity Innie was waving white flag! Haha, but still I forced her ate one and half of the portion. For meat lovers, there has a great news for you all, Skewers has served huge burgers and great food, indubitable! Also, their service is good and friendly waiter.
Innie was jolly and she already acquired what she want, Hoegaarden(RM23 for 1 pint) at last! She told me she couldn't find a place had served Hoegaarden in Klang. Hem, Shepherdoo also include? I just knew Klang was a good place for eating seafood, lots of mamak, homemade dishes. But, not much western restaurant at there. It was because less ANG MOH! HAHA, unlike Bangsar, Mont Kiara or bla la blah.
Wootz, Innie had her Hoegaarden. So what could I have? Yes, Signature Sangria(RM16, red wine) in my hands! I knew sangria since I dined at Italiannies. And something made me jaw dropped. Out of my expectation, Skewers served good sangria, lots of red wine! I could feel it! Unlike Italiannies, just a little bit. Skewers, great job! I think I will revisit, because I didn't take my bulky camera out in this time. What a waste!
Skewers
SG-01, Subang Avenue, Persiaran Kemajuan SS16. Tel: 03-56321368