Error 303: Feelings no found
Food Stories: Nasi Goreng Berembah
28 July 2010 || 20:09
Time never retard, life can't retake. As I know TODAY and YESTERDAY already have made deep inroads into my memory. The clock tick tock tick tock without tiddly, it's reading fluently, the story of July now. August might be tomorrow, if we gladly accept that to speed up to splurge Monday Tuesday Wednesday Thursday Friday Saturday and Sunday.
Notwithstanding time flies, my brain still malfunctions sometimes. Half shut down, no cherish either minute or second and addicted to the opiate of all-day stoning in the bedroom, counting sheeps or built castle in the air, even cupcakes or muffins too.
Apparently the noise of sunshine resurrected me. Followed mother going to Banting,
a place about 33km away from Klang.
Mother working, brat(me) loitering. Besides working, rest is another thingy. Accidentally, mother found out a thumbs up food near her working area. Before went to MCD Banting
the only one fast food restaurant in Banting.
How poor Banting-ians!,
we headed there early for TABAO
Nasi Goreng Berembah
. It is located at the neglected ground floor of a building that behind The Store Banting. Not a stall but a few tables to working their business. I think it's only available from eleven something in the morning until the end of lunch hour, maybe.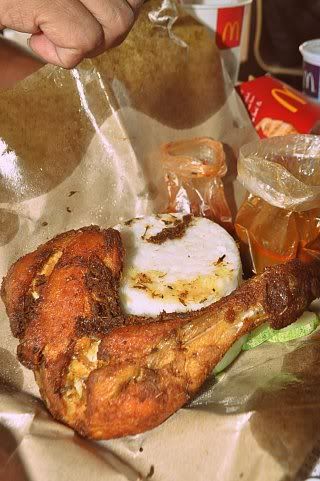 Nasi Goreng Berembah(RM4).
Only one choice. The food are prepared by "sack" or call "wrap". Hmph, package just like you TABAO nasi lemak. Inside the "sack", you'll get a cup of steamed rice without the smell of pandan leaves, a huge chicken wings maybe and two different types of homemade chilis sauce.
There has some skills to savour this delicous Malay food. The best way to eat this Nasi Goreng Berembah is using your clean hands. Learn like Malays pinch some rice and added a slice of chicken meat and sending them into your mouth then. Yummy Yummy!
Actually was my mother taught me how to eat, the step you must follow by,
Firstly, tear the chicken wings( I mean the meat) into pieces.
Secondly, CAMPUR("mix" in English) the homemade of chilis sauce with the steamed rice when you gonna pinch some.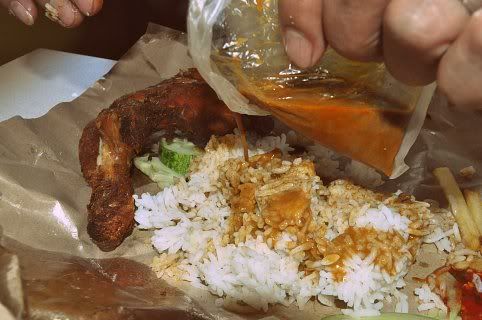 No doubt, this food kinda fresh for me. First time using hands man! By the way, we ate them in MCD. Hey people, don't learn by us, it's not allowed outside food in MCD. But we had no choice, Hehe just let it go.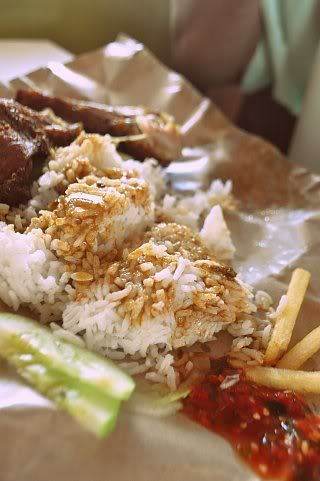 Sundae Pineapple (RM3.30)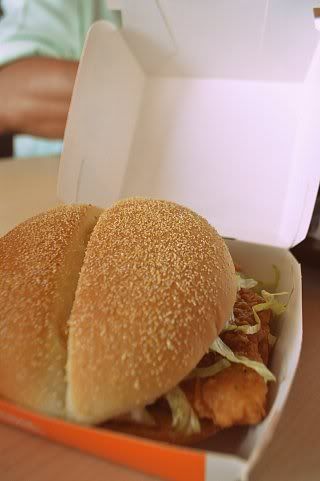 Spicy Chicken McDeluxe (RM7.95 during lunch time)
It was my Nasi Goreng Berembah day. Nice day and a worthy try! So, watcha waiting for!
Go n try, no excuse that you're living far far away from here. Tempting food always won't have deliver service even it's far away from the crowded city too!
It is available at Jalan Wisma, Banting.
Labels: Banting, Malays food