Error 303: Feelings no found
Food Stories: Bangi Kopitiam
23 July 2010 || 10:31
Kopitiams are growing up bambooly in the streets nowadays. If browsing microscopically the menu, the choices are almost same. The only I interest is their restaurant design, special cuisine and also price.
I quite limp recently because of the humin weather. So Tuesday night went out to chill. I found out there had a newbie kopitiam at
Bandar Botanic
. -------
Bangi Kopitiam
, a place fills with antique decor. Uh-huh, or you can say it's Old Town's brother. LOL, just kidding.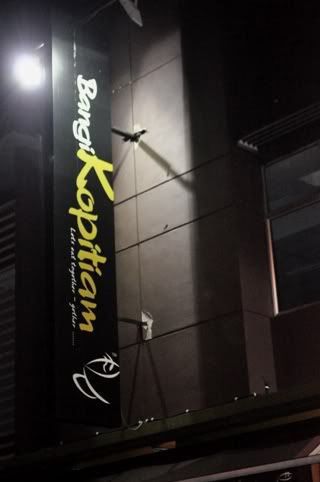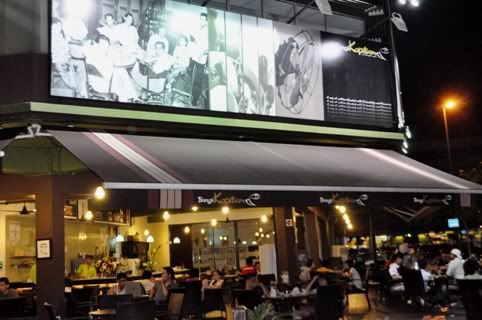 See! Damn crowded-nya!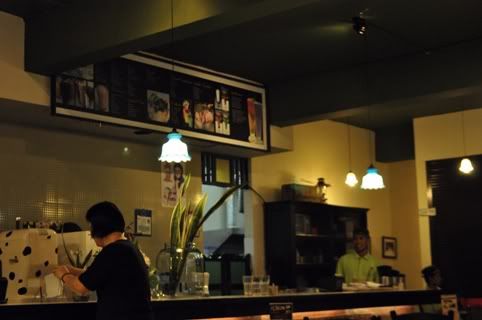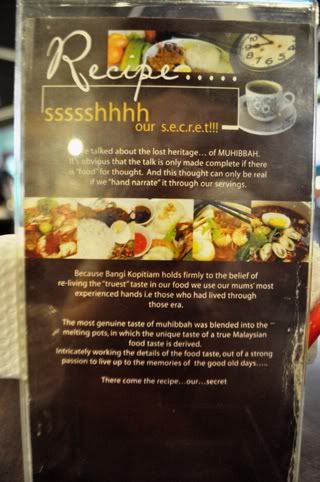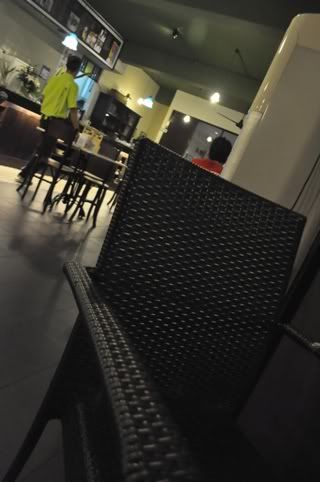 My eyes were glinting with unbelievable when browsing the old and shabby menu. The range of the price of drink & food are only under RM12!! WOOO-OW! It's a BOMB man! Damn cheaply. Of course portion surely will abit smaller than other kopitiam but still acceptable what.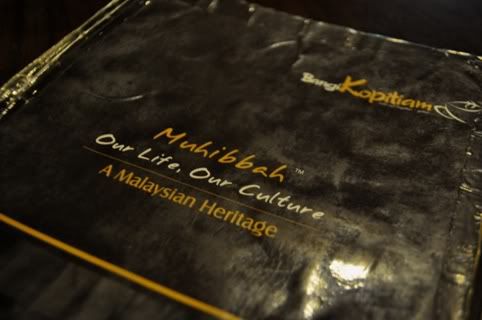 Menu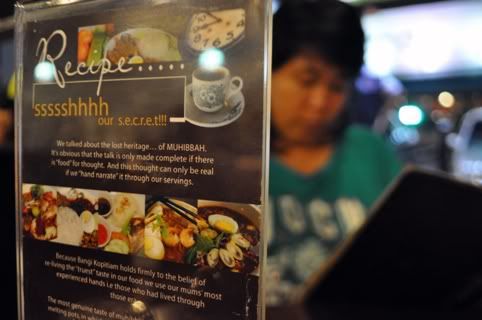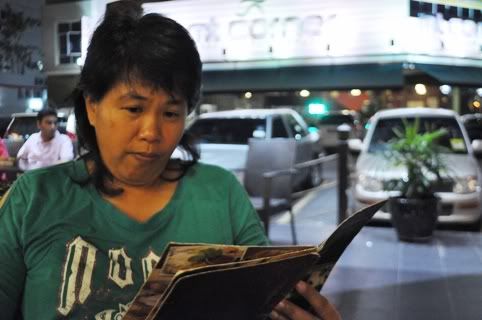 After a few minutes, drinks were served. Cheap and efficiently also.
Bandung Cincau (RM3.50).
The bland taste not bad though, lots of cincau. In that moment, I thought it was one the street beverage of Indonesia.
Because city Bandung is the capital of West Java province in Indonesia.
Who knows!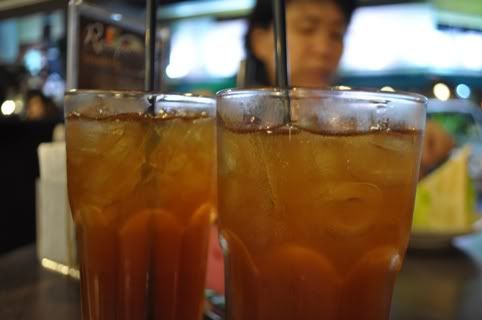 Teh O Limau Cold (RM2.70 each).
Actually we ordered Ice Lemon Tea without seeing menu. But, the waiter misunderstood us and never corrected us. In the end, came out this thing. It's abit sour.
Continue chit-chated abit. Not longer, the food appeared in front of us. efficiently times two.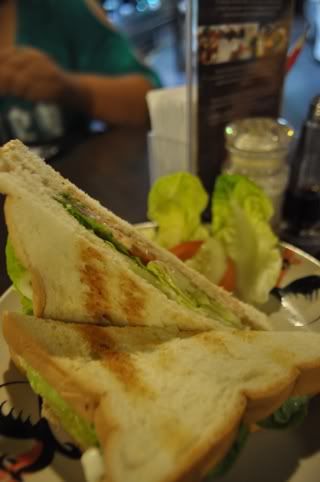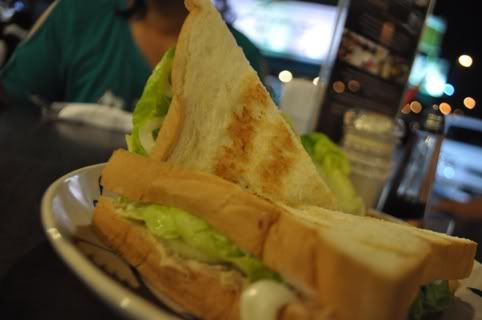 Tuna Sandwich (RM4.50). Yup yup, is a popular type of sandwich. As you know, it is usually made with canned tuna mixed with myonnaise. See the picture! The myonnaise!!! The bread was not over toasted.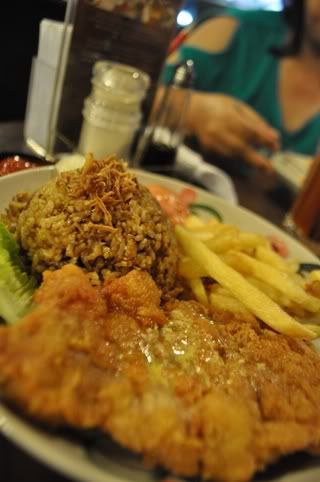 Fried Rice with Chicken Chop (RM8.00). I saw it was one of the signature choices in Bangi Kopitiam. No doubt, it was! Even the portion couldn't served by share, but it was acceptable. You must remember it's only RM8 not RM12+! The fried rice ain't normal. You could see it was black in colour and served with a scatter of fried onion on top. Tasted abit same like sticky rice. You should try this!!
Afterwards, we ordered one more------ dessert!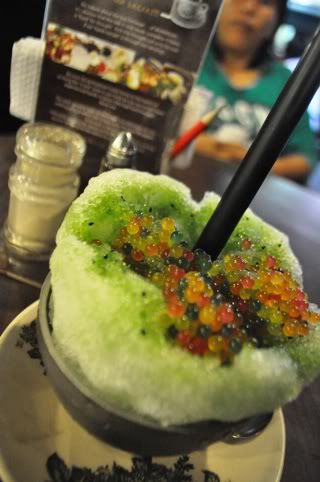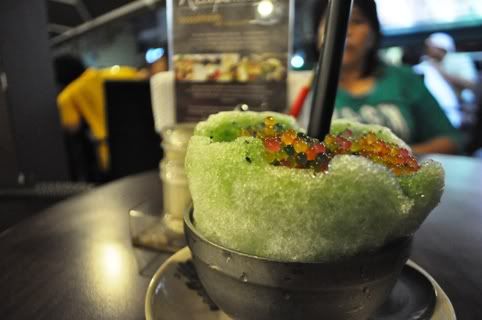 Kiwi Jelly Ball (RM4.20). Um, it was signature choice also. The flavour of kiwi was too much I thought. Couldn't shout but it was okay.
Unluckily recently I'm on diet, and also cause of some issue, mother has limited choices. So, sorry for counldn't present you all lots of food & drinks. If wanna find out more, go and try.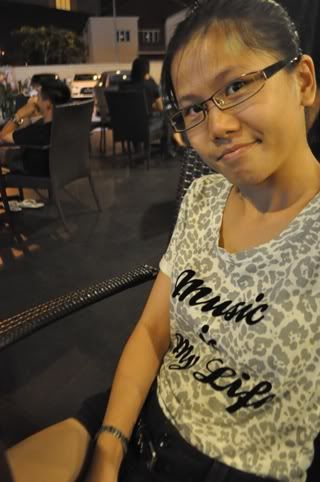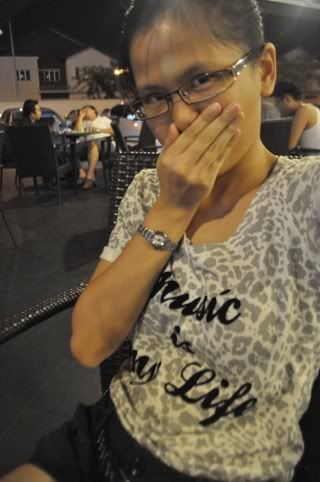 Bangi Kopitiam, Bandar Botanic
62, Jalan Mahogani 1, Bandar Botanic, Klang. (It's just opposite Aeon Jusco Bukit Tinggi.)
Hehe, before leave the place. I snapped this picture. There had a gang of Lancer goers buzzing at Bangi Kopitiam. Here's their car.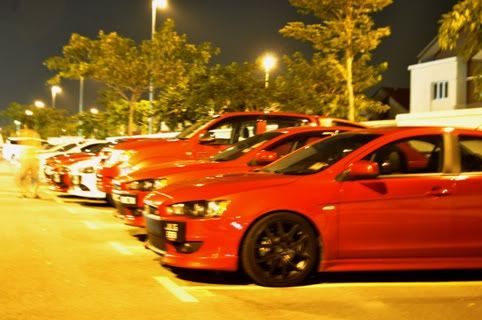 Feel free and want to know more about Bangi Kopitiam? Please do check Bangi Kopitiam.
Labels: Bandar Botanic, Klang, Kopitiam