Error 303: Feelings no found
Old McDonald Had A Farm
19 June 2010 || 17:52
I'm quite lazy during the languid weekends. I always skip my breakfast when it's either Saturday or Sunday.

It's ain't a healthy way, don't learn.

Thanks to the very effective blackout drapes, I have no idea if it is morning or night.


Around one sounds, phoned mother for borrowing the car. I would drive to Subang just a MCD if my mother no nagging me. I responded mother that I want to go SS15 MCD because behind it's Starbucks! Mother scolded me L.A.M.E. In the end ended up at the nearest MCD.





I ♥ MCD LUNCH HOURS! It's worth to lunch. Especially available from 12pm to 3pm everyday. So what are you waiting now! Go n' grab it!



Ordered

Spicy Chicked McDeluxe(RM7.95)

as usual. It was my breakfast!!

A quite late "breakfast" at 2pm

*cough cough






Since I was craving for ice-cream recently, Oreo McFlurry(RM3.95) as my dessert. But, my sister wolfed it down. T______T


Actually I wanted to order Happy Meal and my little sister started to gaze at me in disbelief. She said,

"OMG, you this gaint-size-child will gonna scare people!" I was speechless.
Kinda lack of sleep nowadays, Ohya granted. FIFA took my nights. My eye bags became more obviously. Darn it!
Vampire in the house! Be careful.
My sister looked tired too. She was crazing for taiwanese dramas till midnight.
We're nocturnal birds!!!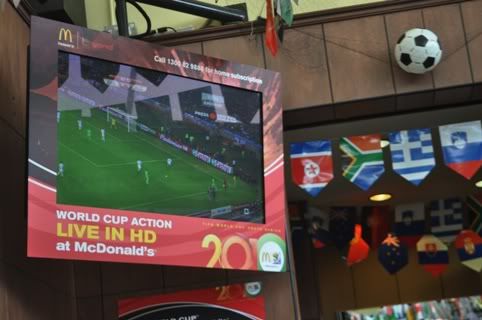 Wookay, gonna stopped it here. It was my Saturday! And also tagged a video to share you all.
Ps, I should do this just now! A creative way to order Mcd! XD