Error 303: Feelings no found
Food Stories: Snowflake, SS15
16 June 2010 || 20:09
Last post I already told we off to SS15 for a confection. BINGO! You were right. The popular Taiwanese dessert in S.N.O.W.F.L.A.K.E!!!
"Huh!" my cousin said, gazing at me in wonder when I said to bring him to somewhere. When I was in Sunway, everytime only passed by the shop and peeping. That day was my only first time stepped into it. Grinned.
Snowflake, SS15
Snowflake is located at 1st Floor
Wow, the shop was rather cramped. We'd have to squeeze into the shop and quickly grabbed a pew. Maybe it was Sunday, crowded and hubbub like night market WTF. Self-service, walked to the counter, ordered and paid then.
Afterwards, they would give you this interesting baby gadget. Haha. It was so freshly to me.

Beep Beep in moi hand.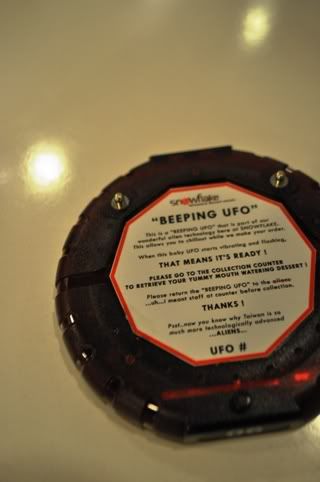 "Beeping UFO". It wrote,
This is a "Beeping UFO" that is a part of our wonderful alien technology here at Snowflake. This allows you to chillout while we make your order.
When this baby UFO starts vibrating and flashing, That means it's ready!
Haha. This was what I did while waiting the dessert,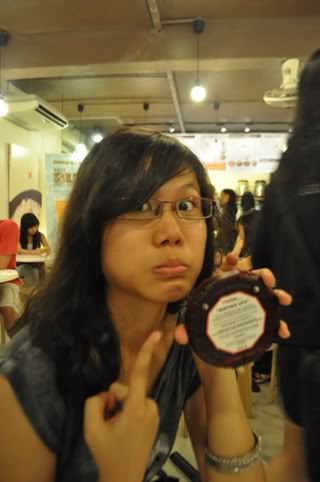 "WTF, UFO! The owner is an alien! And this thingy is used to phone Bossy Alien to come out! Really? MAMA, faster phone 999!" This was the first time expression when I got my own BEEP BEEP UFO. Monkey face.


But, before it, I was barbaric trying to munch this inedible-looking snack! "Rawr, Imma hungry now! Come come come, come into my mouth please."

Wookay, please ignore that girl and took your ease. I already sent her to meet the Bossy Alien!
When I was so busy comtemplating the ramifications of the taiwanese brilliant idea. The BEEP BEEP UFO suddenly vibrated and flashing.


Yup, collection time! Faster return the BEEP BEEP UFO to the aliens... I meant staffs to collect my dessert.

Best seller(with flash & close up photo). Before adding the cream, but I think actually it was milk.

Best seller(with flash & close up photo). After adding cream, is it look more adorable?
The best seller(cold, RM6.00). Inside the bowl had grass jelly, grass jelly ice, taroballs, creamer. I just knew my cousin should wolf down this bowl before the ice became to melt. Wink. It was fresh to me when I tasted its green grass jelly ice. Yeah, it flavoured the shaved ice with grass jelly. Not bad though. Hmph, I found out the taroballs quite chewy and abit tasteless.
Best seller.
Here come another dessert that I picked up,

Soya Ice Series with Set 5
Soya Ice Series(Set 5, RM5.50). Inside the bowl had black glutinous rice, pearl and kidney bean. Yeah yeah, Imma one of the SOYA fans. Awesome too when soya met the ingredients. I just savoured slowly and my taste buds were enjoying.


Soya Series with Set 5
My jaw dropped when I collected. The portion was huge for me. But, I saw other food blog, it showed me small in size also. Em, no idea. No doubt, I was enjoying the dessert. It gradually exorcized my feeling of sad. I felt it. Because I'm still in sugar high when it's already Wednesday now!! Maybe I'm the poor girl without sweet love can feel this kind miracle thingy. I rate 4/5 for it. I'll back again for the TAO FU FA series. Wait me.
Ignore me. 'Cause less posse V in real. Sugar high after the dessert.
Snowflake
No.61A, First Floor,Jalan SS15/8A,47500 Subang Jaya,Selangor.Tel: 017-623 8966
P4.01.00 & E4.01.00Pavilion KL168 Jalan Bukit Bintang,55100 Kuala Lumpur.(outside Padini Concept Store)